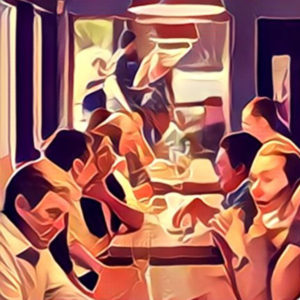 Episode 1 (Tad Davis):
—–
Episode 2 (Brooks Ingle):
National Fire Protection Association
—–
Episode 3 (Katie):
Trans Lifeline: 877-565-8860
National Suicide Prevention Lifeline 800-273- TALK (8255)
Trans Lifeline: 877-565-8860
National Suicide Prevention Lifeline 800-273- TALK (8255)
—–
Episode 4 (Ruby Amanfu):
Ghana – West Africa's Golden Child
—–
Episdoe 5 (Tanya Sue):
Tanya Sue Cheetah Official Page
Dark City Light on track with Tanya Sue
National Suicide Prevention Lifeline 800-273- TALK (8255)
American Foundation for Suicide Prevention
Crisis Text Line: Text "START" to 741-741
—–
Episode 6 (Zach Skow)
ShelterPups.com Stuffed Animals
—–
Episode 7 (Hal Humphreys)
Hear the Beard – Hal Humphreys
—–
Episode 8 (Mark Carson)
America's Longest War by George Herring
—–
Episode 9 ("Jill")
Secret Diary of a Call Girl – Belle de Jour
New York Times article about dangers of Escorting
The Price: My Rise and Fall As Natalia, New York's #1 Escort – Natalie McLennan
Huffington Post Sex Trade Study
My talk with "Jill" was great and she's an empowered woman who has chosen her field of work, however, if you or someone you know is being held against your/their will, please contact: The National Human Trafficking Resource Center at 1-888-373-788 or text BeFree (233733) 
—–
Episode 10 (Karen Lynch)
Good Cop, Bad Daughter – Karen Lynch
Shades of Blue – Writers on Depression, Suicide, and Feeling Blue
NY Times – Some Cops Never Fire Their Gun
—–
Episode 11 (Andrew Arehart)
Contact Andrew – ajarehart @ gmail.com (no spaces)
10 Facts About US Refugee Settlements
Save The Children – Humanitarian Outreach
Rescue.org – Help Refugees in Crisis
—–
Episode 12 (Adam Shelby)
Tennessee Higher Education Initiative 
The New Jim Crow by Michelle Alexander
—–
Episode 13 (Paul Fallon)
How Will We Live Tomorrow? project
Architecture by Moonlight book
Mission of Hope International – Haiti
—–
Episode 14 (William Puckett)
National Aviation Reporting Center on Anomalous Phenomena
The Radio Broadcast That Terrified America
Information on Hydrocephalus Condition
—–
Episode 15 (MadebyJimbob)
The Children's Story by James Clavell
—– 
Episode 16 (Mark Friedman)
Golden Records: The Magic Continues – Celebrity Series Vol. 1
Artist (and songwriter) Emily West
Songwriter Dawn Thomas (Constant Change)
—– 
Episode 17 (Elana Mugdan)
—– 
Episode 18 (Chris Gehringer)
Chris Gehringer – Sterling Sound
Francis Manzella Design Ltd: Architectural Acoustic Design
—– 
Episode 19 (A. Pilot)
If You or Someone You Know is Being Abused Contact Childhelp.org (Click this link)
CHILDHELP.ORG Helpline call 1-800-4-A-Child (1-800-422-4453)
Find a Reputable Therapist in Your Area
Qigong Life Force and Vital Energy
—– 
Episode 20 (Dean Miller)
Dean Miller's Website – The Dog Counselor
All You Need To Know About the Music Business – by Donald S. Passman
Roger Miller All Time Greatest Hits album
Dogs Never Lie About Love – by Jeffrey Moussaieff Masson
—– 
Episode 21 (Justin Levenson)
Justin's Blog – It Is Brain Surgery
Information About Brain Tumors
It's Always Something – Gilda Radner
—– 
Episode 22 (Rachel Kice) 
—– 
Episode 23 (Michael Mollura) 
Dr. Michael Mollura – Depth Psychotherapist
Michael's IMDB profile (Soundtracks he composed)
—– 
Episode 24 (Geof Kirby) 
The History of Exorcism by Culture/Religion
—– 
Episode 25 (Brock Hayhoe/Brooke Lynn Hytes)
Brooke Lynn Hytes on Instagram
Les Ballets Trockadero de Monte Carlo
—– 
Episode 26 (Nick Pellegrino)
The Culinary Institute of America
Wendy Wall – Dig That Crazy Beat video
Walt Wilkins "Our Lady of the Avenue"
—– 
Episode 27 (Tyler Southern)
Tyler Southern's Facebook Page
Send a Care Package to the Troops!
Meehan's Irish Pub – St. Augustine, FL
—– 
Episode 28 (Jameson Fink)
Jameson's Website – Wine Without Worry
The Essential Scratch and Sniff Guide to Becoming a Wine Expert book
—– 
Episode 29 (Greg Vandy)
The Roadhouse – Greg's Radio show
American Standard Time (Greg's Blog)
26 Songs in 30 Days: Woody Guthrie's Columbia River Songs and the Planned Promised Land in the Pacific Northwest book
—– 
Episode 30 (Richard Nichols)
Southern Poverty Law Center Hate Map
A Secret History – History Channel Documentary
Donald Trump and the KKK – New Yorker article
—– 
Episode 31 (Bryon Widner)
Erasing Hate documentary trailer (movie is on Netflix)
This is your brain on Love and Hate
—– 
Episode 32 (Brett Swayn)
Fleming's Steakhouse Nashville
—– 
Episode 33 (Alissa Moreno)
—– 
Episode 34 (Diane)
Over The Rainbow – Israel "IZ" Kamakawiwo'ole
Tear Soup: A Recipe for Healing After Loss (book)
—– 
Episode 35 (Talha Haseen)
Islamic Center – Nashville, Tennessee
—– 
Episode 36 (John Jackson)
In John's Own Words – The Facebook Post That Connected The Dots
Sexual Misconduct/Harassment in Schools
Guidelines for Conduct in the Teacher Student Relationship
—– 
Episode 37 (Sean)
Intimacy article – Psychology today
Emotional Support article – Psychology Today
Ted Talk – Julian Treasure – 5 Ways to Listen
—– 
Episode 38 (Annie Waugh)
The Adult Chair – Michelle Chaifant
Gil Ben-Ami – acupuncture in Nashville
Bill Moyers – Healing and the Mind
Feelings Buried Alive Never Die – Karol Truman book
You Can Heal Your Life – Louise Hay book
Dr. David Hamilton – Kindness Ted Talk
—– 
Episode 39 (Chris Norton & Emily Summers)
The Power of Faith When Tragedy Strikes  book
National Foster Parent Association website
—– 
Episode 40 (John Angelos)
Baltimore Orioles Official Site
John's 20 Tweets during the Baltimore protests
Colin Kaepernick Takes a Stand By Sitting It Out
—– 
Episode 41 (Evan Kidd)
Son of Clowns Official Website
Home Remedy – The Series Facebook page
Short Term 12 Official site (it's also on Netflix)
Destin Daniel Cretton – director
—– 
Episode 42 (Caleb Mundy)
Contact Caleb: calebmundy @gmail.com (remove space)
Catholic Community Services – TN
DACA information (Deferred Action for Childhood Arrivals)
Immigration Customs Enforcement
—– 
Episode 43 (Chloë Stillwell)
SURGE – Showing Up For Social Justice
—– 
Episode 44 (David Nunn)
Tennesee Higher Education Initiative
Some info on educating prisoners
—– 
Episode 45 (Michelle Chalfant) 
Michelle Chalfant Official Website
The Adult Chair free ebook download!
Michelle Chalfant's YouTube channel
—– 
Episode 46 (Luke Pell) 
—– 
Episode 47 (Bart Green)
The Humble Warrior – ghost writer Barton Green
Frances Preston obituary Billboard Magazine
—– 
Episode 48 (Ryan Rado)
My Quest For Peace of Mind documentary
Obsessive Compulsive Disorder info
—– 
Episode 49 (Sheri Kendrick)
John Hopkins' Children's hospital
Great Tampa Bay Times article about Sheri Kendrick
—– 
Episode 50 (Gabrielle & Tony Caldwell)
Osho Collective Official Website
Sacred ReUnion – Gabrielle (Facilitator)
—– 
Episode 51 (Katie Troyer)
Katie Troyer's Blog/Photographs
The Difference Between Amish and Mennonite
—– 
Episode 52 (Rozana McGrattan)
Street Girl – Rozana McGrattan from Pen Works Media (publisher UK)
Street Girl by Rozana McGrattan/John F. McDonald on Amazon
Cora Jane Sugarman's Soundcloud
—– 
Episode 53 (The Dustbowl Revival)
The Dustbowl Revival new album – Buy Now on iTunes!
The Dustbowl Revival – Facebook
The Dustbowl Revival – video "Busted"
—– 
Episode 54 (Jenni Schaefer)
Jenni Schaefer Official Website
For more information about Recovery: 877-957-6575
Types and Symptoms of Eating Disorders
—– 
Episode 55 (Harlan Pease)
Tennessee Higher Education Initiative
Finding Freedom – Writings From Death Row
—– 
Episode 56 (Susan Ruth)
Susan's Great Uncle Carl Gutherz
—– 
Episode 57 (Lori Hudspeth)
Email Lori at goddesswarriorpath @gmail.com (remove space)
The Archetypes – Serpent, Jaguar, Hummingbird, Eagle
Annie Lennox "Walking On Broken Glass"
—– 
Episode 58 (Dan Hodges)
Dan Hodges website – Private Investigation
John Walker spy ring "Poltergeist"
Frank Bolz – NYPD Hostage Negotiator
Paul Dennis Reid – Fast Food Murders
—– 
Episode 59 (Kate O'Neill)
Email Kate: kate@ koinsights.com (no space)
Get Kate's book: Pixels and Place…
Divine Intervention? Neighbor? Or?
Is your smartphone eavesdropping?
—– 
Episode 60 (A.J. Croce)
Get the new album!! Just Like Medicine on Amazon
Get the new album!! Just LIke Medicine on iTunes
A.J. Croce "Right On Time" music video
Harry Partch – composer on Wikipedia
Jim Croce (A.J.'s dad) – "Operator" 
Jim Croce (A.J.'s dad) – "Time In A Bottle"
—– 
Episode 61 (Ahmed Evans)

—– 
Episode 62 (Cecelia Garmer)
Cecelia Garmer's Facebook page
"How Do You Solve A Problem Like Maria"
The Tipping Point – Malcolm Gladwell (on Amazon)
American Gods – Neil Gaiman (on Amazon)
—– 
Episode 63 (Marty Dodson)
Marty Dodson's official website
What Color Is Your Parachute by Richard N. Bolles
—– 
Episode 64 (Emily West)
Symphonies – Emily West album on iTunes
Don't Ever Go To Paris When You're Lonely – Emily West official video
Heaven and Earth – Emily West official video
—– 
Episode 65 (Michael Wood, Jr.)
Promotional Handbook Guide for Police/Law Enforcement book by Michael Wood, Jr. (on Amazon)
Michael Wood, Jr. on Slate (YouTube)
Civilian Led Policing organization 
Mothers of Trayvon Martin, Michael Brown, Eric Garner and Tamir Rice video 
—– 
Episode 66 (Asia McClain Chapman)
Asia McClain's book – Confessions of a Serial Alibi
—–
Episode 67 (Aaron Weaver) 
Aaron Weaver – Laugh Factory page
—–
Episode 68 (Jill Rutter)
GEMS (Girls Education and Mentoring)
Girls LIke Us – Fighting For A World Where Girls Are Not For Sale – Memoir by Rachel LLoyd on Amazon
Half The Sky – written by Nicholas D. Kristof on Amazon
Fallen – written by Annie Lobert on Amazon
Jill Rutter – Director of Community Outreach – End Slavery Tennessee email: jrutter @ endslaverytn.org (no spaces in email)

Tennessee Human Trafficking Hotline 855-558-6484
National Human Trafficking Hotline 888-373-7888
Text HELP or INFO to 233733
—–
Episode 69 (Niurka D'Amour)
Operation Peter Pan – 14,000 children leave Cuba without parents
Fidel Castro